Growing in God's love means that we are constantly growing in our knowledge of God and God's world. On Sunday mornings there are five or six different learning opportunities for adults to choose. During the week two lively Bible studies take place. There are special forums, retreats and learning experiences within and beyond the congregation.  All groups always welcome new members.  Learn something new today!
Adult Sunday Morning Learning


9:00 a.m. (September through May)
"The Way" Newcomers Class offered every year in spring and fall

Before the first followers of Jesus were known as Christians, they were called "People of The WAY." Then, and now, The WAY refers to a style of life in which both believing and living are centered in Jesus Christ.  At St. John's The WAY is an opportunity for your faith to be explored, nurtured, and renewed, your commitment to Jesus Christ affirmed, and your walk as a disciple of Christ to be established or re-established in the life-giving waters of Holy Baptism or the Affirmation of Baptism.  Led by our Welcoming Team on Sunday mornings, this is a great way to get to experience God's presence and to become part of the St. John's community of faith. The class ends with a wonderful celebration for the entire congregation.   Register for The Way by completing this New Member Form and returning it to our Parish Administrator, Sonya Sowards.
Year-long Classes (September through May):
Happy Hour
This adult group picked the name "Happy Hour," not because it's a time to indulge in alcoholic beverages, but because they are "happy" their children are engaged in Sunday school where they learn about God's love for them and the world. They are also happy because they have time together to explore God's Word and to share the joys and challenges of their most important ministry – parenting!  Leadership is shared and the discussion is always interesting.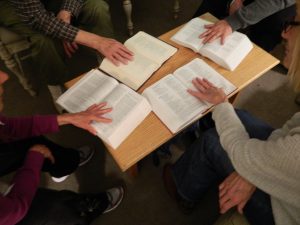 Sunday Morning Book Club
Do you love to read? Perhaps the Sunday Morning Book Club is for you. Each year the club formulates a list of books to read and then gathers weekly for a time of discussion and support. Beyond Sunday morning the Club enjoys evenings at the movies, particularly films on books they have read together.
Faith Life
Faith Life is for those who want to think deeply about what's happening in the world in relationship to their faith. This weekly discussion is coordinated by our Dean of Education, Jack Ertell, and is led by people from a variety of specialties including science, politics, education, and health care.
Other Sunday morning classes
Some adult classes are offered for shorter sessions throughout the program year (September through May).  Recent offerings have included "Embrace Grace,"  "Bad Girls of the Bible,"  "Women of Easter," "Luther and the Reformation" and "Always Re-forming" in celebration of the 500th anniversary of the Reformation.
More Adult Learning Opportunities:
Small Group Bible Studies
You are invited to join our Wednesday Morning Bible Study. It takes place at The Episcopal House – an independent-living apartment building for seniors on Mason Street in Phoenixville, from 10 to 11 a.m. from September through May.  The group focuses upon one of the assigned reading of the Common Lectionary for the coming Sunday. That means if you need miss a week, it is easy to get reconnected!
Our Wednesday Evening Bible Study is from 7 to 8 p.m, and meets in Pastor Krommes' office at St. John's. A reading from the upcoming Sunday is also the focus of the group. New people are very welcome!
If you are interested in starting another study on a different day or time, please contact our Parish Administrator, Sonya Sowards, at office@stjohnphoenixville.org or (610) 933-3947.
Institute for Lifelong Learning
Whether you are a lay person, neighbor, leader in the church, or someone who is curious about faith in the world and has a desire to deepen your understanding, The Lutheran Theological Seminary at Philadelphia offers a wide selection of courses and workshops, taught by internationally acclaimed faculty and speakers, that are available in various formats — on-campus and online — to meet your busy schedule and satisfy your theological curiosity.
LTSP offers many learning opportunities! Why not take advantage of these outstanding course offerings to build and sharpen your skills?
The Diakonia Program
DIAKONIA is a two-year process of spiritual formation and theological education for baptized members of the Evangelical Lutheran Church in America or anyone wishing in good faith to study these teachings. This process occurs in three basic ways:
By thorough grounding in the classic church leadership disciplines of practical, systematic, historical and Biblical theology
By identifying particular skills and aptitudes in ministry, and encouraging their use in the local parish
By providing spiritual growth through worship, retreats, and a supportive community of fellow students, mentors and instructors.
These are the tools DIAKONIA uses to help equip God's people for service in parish and neighborhood ministries. This course of study, combined with spiritual retreats and group interaction, helps train people for the many diverse tasks and opportunities for ministry. The DIAKONIA curriculum consists of twelve courses, six per academia year. Each course is five sessions in length, and meets weekly for three hour sessions. Please contact our Parish Administrator, Sonya Sowards, at office@stjohnphoenixville.org or (610) 933-3947 for more information.