Our Stewardship theme for this year is Live Simply, Give Generously.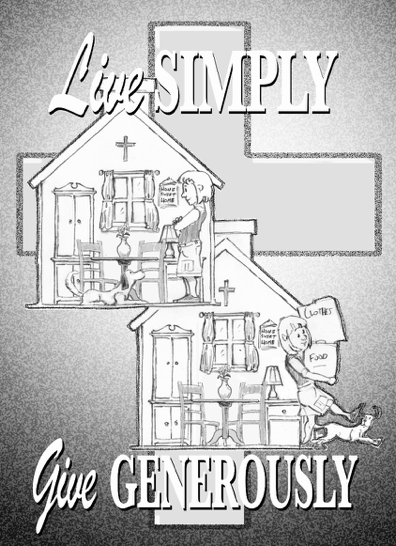 Living simply focuses us on what is most important – God's relationship with us and our relationships with others and God's creation.
Giving generously helps to change lives in our congregation, community and around the world.  Trusting God we are called to give generously of our time, talent and money.
Your financial support of St. John's furthers our mission of living, growing and sharing in God's love through Jesus Christ our Lord.
In Worship Giving
The offering plate is an "agent of transformation" – for the giver and for those who received ministry through St. John's.  It is "passed" at each of our regular worship services enabling us to pass on what God has given us to others.   Along with monetary gifts, everyone is encouraged to return the weekly yellow communication card and on it to indicate the ways they will serve in their daily lives, at St. John's and in our broader community.  Explore the website to discover many opportunities to give of time and talent.
Online Giving
Giving on-line is convenient, simple and secure.  You can make a one-time contribution or set up a recurring donation.  Click the "give now" link below to quickly process a one-time payment or login to manage your personal giving account or set up recurring payments today.  You may also use "Simply Giving" to set up recurring gifts.  Please connect with the Church Office to be sent the necessary form.
Give Now
Mail Checks to:
St. John's Lutheran Church
355 St. John's Circle
Phoenixville, PA  19460
If you are giving a Memorial gift in memory of someone, please indicate that on the check's memo line.
Year End Giving
Plan ahead in order to receive the tax-benefit for 2016.  In order for a gift to count towards you 2016 year-end charitable contributions, it must be received no later than December 31, 2016.
Need Assistance?
Send us an Email
stjohnsphoenixville@verizon.net

Contact the Church Office
610-933-3947